Jaclyn Bird - General Honors Program Student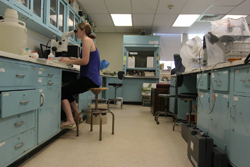 As a SEBS honors student, I immediately became a part of a small, tight-knit community within the fairly large SEBS school, and the even larger Rutgers University. Living in the honors dorm (Nicholas Hall) freshman year allowed me to get to know my honors peers really well, and made it very convenient to study together and become good friends. Even for those who decide against living in the honors dorm, we had seminars together, and periodic events such as picnics, that facilitated friendships among the honors students.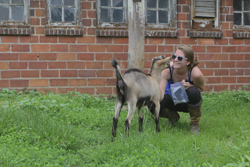 The program requires us to do research, which I likely would not have been interested in otherwise. I met my research professor, Dr. Michael Sukhdeo, through the Byrne Seminar "Pets and Their Parasites in Modern America." I knew that the Honors Program required me to do research, and I enjoyed spending time with Dr. Sukhdeo, so I asked him about his research. He explained one of his projects to me during the seminar and I was fascinated. I utilized the Aresty Summer Science Program for rising sophomores to get a jump on my project, which involves the culture and study of ruminant parasite Haemonchus contortus, and now I am continuing that research through the honors tutorials. I love research and am thrilled to have started it. Additionally, our program is constantly evolving, and as students we are able to provide input and our opinions are thoroughly considered, which I really appreciate. Overall, I think the SEBS Honors Programs is a worthwhile endeavor and I'm happy to be a part of it.
Olivia Le Warn - General Honors Student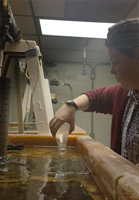 Everyone involved in SEBS Honors Programs, whether students, professors, or administrators, are wonderful and have created a welcoming environment for incoming students. Most importantly, being a part of the SEBS Honors Programs has allowed me to push myself in ways that I had never considered possible, such as finding research opportunities early in my college career. Currently I am working in Dr. Keith Cooper's lab doing research on differing growth rates of Eastern Oyster (Crassostrea virginica) in order to aid restoration and resilience efforts in the Hudson-Raritan estuary, as well as looking at the effects of plastics on the oysters.
James Duffy - General Honors Student

James Duffy is conducting a literature search on the links between the international pet trade and invasive species introductions in Julie Lockwood's lab.
Ashley Goncalves - George H. Cook Scholar
I spent four months at a remote field station called Palmer Station, helping a pHD student calibrate gliders, attain water samples, and broaden our understanding of the phytoplankton there. During my time there I also attained a sample of Adelie penguin stomach contents containing a less-understood krill species which I will be analyzing to understand its ecological significance in the West Antarctic Peninsula. It has been quite an experience, and my journey to Antarctica has taught me an incredible amount about marine science and how it is applied in the field.
In the first photo above we are calibrating an Acoustic Doppler Current Profiler. We also were sampling chlorophyll to be placed in a High Performance Liquid Chromatography.
Eliana Geretz - George H. Cook Scholar


Eliana Geretz studies tree moss. For her George H. Cook honors thesis she sampled tree moss species in 15 managed urban parks in Philadelphia. Eliana's honors research mentor is Dr. Myla Aronson, research scientist in the Department of Ecology, Evolution and Natural Resources. The image on the right shows Orthotrichum stellatum, one of the moss species in Eliana's research project. Eliana's research is featured the SEBS/NJAES Newsroom.